Do you know the marketing strategy that brings the traffic to your site? Most of your competitors do not because they do not use UTM tags or do not use them appropriately. In this article, we will explore what UTM tags are and how using them makes marketing more successful.
What are the UTM tags?
The UTM code, or tag, is a specific code in the URL format. It is a parameter you attach to the end of every link. When a user clicks a link, he sends the information to Google Analytics or similar services. UTM codes give you more details about the traffic sources, medium, and campaign name in the analytic reports.

If you already have a Google Analytics account for tracking traffic sources, the collected data is still not precise enough. It will label traffic on your site as the same source from various marketing campaigns before using the appropriate markup to differentiate sources.
You can't obtain valuable data on the effectiveness of your marketing promotions without such differentiation. Therefore, you will spend your marketing budget less effectively. UTM tags allow you to get much detailed information and identify the source of the click up with a precise ad, site, or post.
But, when operating with UTM tags, there is an important thing to consider.
In the next section, we'll talk about the structure of UTMs in detail. But firstly, let's talk about their weak points.
Weak points of UTM Tags
The UTM tag has a very unpleasant sticking-to-your-web-links feature, even when users jump to other websites. As a result, if a user finds your link in any social network (LinkedIn, for example) and shares it in his Facebook feed, we will see the traffic from this Facebook post as traffic from LinkedIn in our analytics report.
Internet content distributes in a non-linear way and appears in a variety of sources. And it is one of the main problems. A research performed by 33across found that 82% of people who share content do so through copying a URL.
So how to deal with that? You can "clean" the URL and remove the UTM tag after the user has shared your content. But it is almost impossible to make it automatically and avoid data loss. Existing solutions do not solve the problem completely. The fact is that traffic from such a "cleaned link" reflects in analytics as a direct visit. We talk about the case when a user shares it privately (in an email, or a messenger). As a result, you are still getting confusing misinformation.
It is necessary to understand that UTM tags are not a kind of magic pill, and they have weaknesses. To obtain clear analytical results, you need to collect and combine data from multiple sources. However, there are no doubts that UTM tags can increase the analytic accuracy.
How to create UTM tags?
There are online services that help you generate UTM tags as much as you need, and it's pretty easy. Here are some sites to create UTM tags.
Old-school webmasters can write UTM tags manually in a text editor.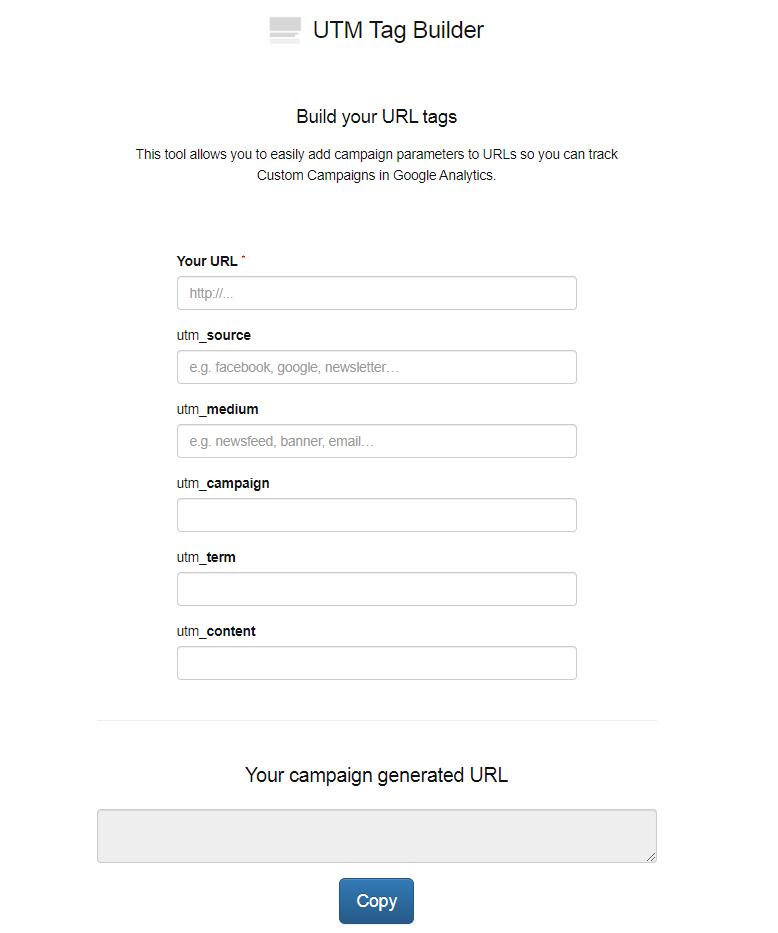 There is one more important thing about UTM tags. When you create a tagged link for some mobile app, it looks a little different, with a specific application ID and parameters added.
UTM tags anatomy
Every UTM code consists of parts attached to the end of an URL. Each parameter includes advertising campaign information and helps to identify traffic more accurately. You do not have to fill in all the fields to create the correct UTM tag. Some tags may be sufficient, depending on the advertising campaign type. Here is an overview of the main parameters.
Campaign Name
This parameter stands for the marketing campaign or a website to which a tag leads. It could contain "electronics-sale" or "old-collection-discount", for example.
Campaign Source
This parameter shows the traffic source. The Campaign Source tag will tell you where your searchers are coming from, the site, or the vendor. For example, it could be an email or Facebook post.

Campaign Medium
This parameter shows the type of traffic purchased. This tag allows you to understand what kind of paid placement we choose to attract users, like CPA, CPM, or CPC.

Campaign Term
It is typically used in paid search ads to identify paid keywords. We can also use this tag to label customer groups. It may look like "buy-small-kitchen-sink" or "actively-search-for-products".

Campaign Content
If you run A / B tests, you can use this parameter to specify the version of the target page. It is using to differentiate links leading to the same source. For example, you could fill it with "red-button" or "link-3".

Best UTM tagging practices
When you use hundreds of links in dozens of different advertising campaigns, you have to do that right. Here are some tips on how to avoid chaos in your analytics and find the right information quickly and efficiently.
1. Use a template to create UTM tags
If you use the same format for all parameters, you can avoid confusion when several hundred of them accumulate.
First, always use the dash "-"! Do not use an underlining "_", percentage symbol "%" and symbol plus "+". These three signs replace spaces in browsers bar, and it will be a misunderstood thing. The search engines will not enforce penalties for using the dash.
Second, always use lowercase when creating UTM tags. If you use uppercase or capitalization, you must remember another formatting rule, and it will make your life harder.

Also, UTM tags are case sensitive. That means the following. For example, if you set the campaign name tag as "Campaign1", and then accidentally write "campaign1", you will get two different campaigns.
Keep in mind that UTM parameters will be visible to users in their address bar, so do not include content that you don't want to show in public.
Third, try to keep your UTM tags short and informative. When one word suffices to convey meaning, do not write a complete sentence. It is vital so you could quickly dash through the list of posted links and understand where it is from and what it is for.
2. Use a link shortener service.
The reference with half the length of the "Gone with the Wind" novel creates a very negative user experience. Some users may mark it as spam and leave your site immediately. So after creating a UTM tag, it's recommended to use some URL shortener service.
3. Collect all parameters in one worksheet.
You can synchronize your teamwork using sheets with templates and labels for UTM parameters. And you will avoid the endless process of unnecessary questions and clarifications. You can use this free template for UTM tagging or create your own.

Also, create a detailed document that defines the basic UTM tag format. This way, if your staff create their links, they could not confuse your work because of incorrect or different formatting.
4. Integrate your CRM system and UTM tags.
Always remember that income is the main. And doesn't' matter how high the number of clicks per page or the traffic volume from various sources.
So think about the integration with CRM after you create a structured approach to working with UTM tags.
It gives you an excellent idea of how traffic converts into sales and how much money it generates.
Alternatively, you can set targets in Google Analytics or similar services if you have integrated counters at your e-commerce site.
Частые вопросы
Зачем нужны UTM-метки?

Разметка ссылок поможет более тщательно анализировать посещаемость сайта и эффективность рекламных каналов. Важно учесть советы из данной статьи для того, чтобы добиться поставленной цели и получить максимум полезных данных. Мы рассказываем об ошибках, которых легко избежать, а также даём несколько дельных лайфхаков!
Обязательно ли заполнять все поля в генераторе ссылок?

Вовсе нет, необходимо заполнить только те поля, которые помогут вам идентифицировать рекламный канал. Например, в контекстной рекламе это может быть название поисковика, формат показа объявлений, название группы и самого креатива. В баннерной рекламе на партнерском сайте же достаточно будет всего пары параметров: название ресурса и рекламной кампании.